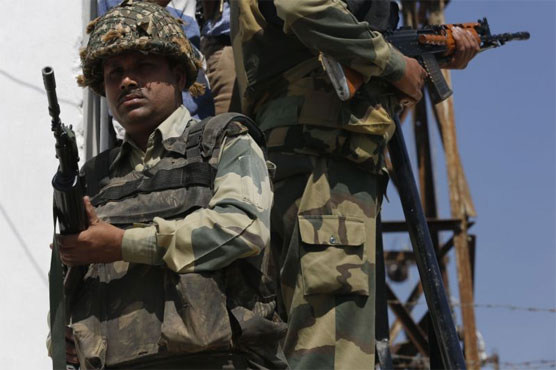 At least three militants and one Indian soldier have been killed during violent clashes that erupted after an attack on an Indian paramilitary training camp in the disputed Kashmir region.
A group of militants had stormed the BSF camp located just outside the main gate of the high-security Srinagar International Airport at 4.00 am.
Local media say that all the roads going towards Srinagar airport have been sealed and flights suspended.
"We demand a white paper from the state and Central governments indicating the details of terror attacks, border incursions and ceasefire violations together with details of casualties of civilians as well as armed forces during the last three years", Singh told reporters here. The terrorists were members of 11-member "Afzal Guru Squad" of Jaishe-Mohammad.
This incident marks the third time that militants have attacked the security forces' camps, following the attack on the Pathankot air base in January 2016 and the Indian army's camp in Uri, in September 2016.
Residents in the neighbourhood said they heard dozens of blasts and intermittent gunfire was still ongoing.
This can be because of the huge damage inflicted on militant groups after security forces launched the much-publicised Operation All-Out in April, police sources said.
Google Pixel 2 and Pixel 2 XL to have staggered release dates
According to Maini, Google Ultra Pixel will feature a dual-camera setup and a new "kind of" fingerprint scanner. Of most note in the render is the new Pixel Launcher that shows Google has some changes in store for us.
Kashmiri resistance groups in Jammu-Kashmir have been fighting against Indian rule for independence or for unification with neighboring Pakistan. The particular battalion handles the security of runway at the airport.
The Indian forces struggled to kill the militants, and the firefight lasted almost ten hours.
In a weird incident, a BSF camp was attacked by a few terrorists near Srinagar Airport and the Airforce station early Tuesday morning.
Khan said the operation against the militants on Tuesday was a classic example of total coordination between different wings of the security forces.
Inspector General of Police, Kashmir Range, Munir Khan said they continued to look for six to seven terrorists and that they needed to "neutralise them very fast". All three terrorists were killed in an operation that lasted almost 10 hours. "An assistant sub-inspector of BSF also died in the initial assault", Vaid told AFP.
In August, militants attacked a police base in the southern Kashmir town of Pulwama, killing eight security personnel.