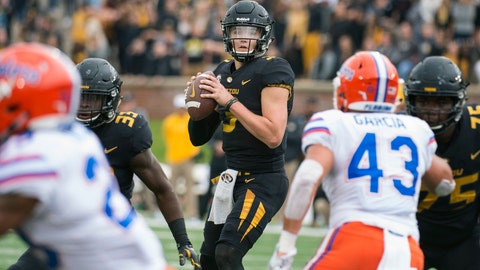 On Sunday, Butch Jones was sacked as head coach of the Volunteers with two games remaining in a miserable season. The report originated with Bruce Feldman of Sports Illustrated.
John Currie is in his first year as Tennessee's athletic director, and sources told ESPN that his preference was to give Jones more time and not have to make a move so soon. The Vols are 0-6 in SEC play after getting blown out by Missouri on Saturday, 50-17.
Hoke has a 78-70 combined record as a head coach, and he went 11-2 and reached the Sugar Bowl in his first year at MI. The Vols would have to win their remaining regular season games against LSU and Vanderbilt to become bowl eligible. Jones went 34-27 during his tenure.
But he couldn't get the Vols an SEC East title even during an era when rivals Florida and Georgia have been in transition. Tennessee's average home attendance climbed from 89,965 the year before Jones' arrival to 100,968 last season.
Now, the Vols are looking for a fourth head coach since 2009.
Jones took over Tennessee in 2013 as Derek Dooley's replacement.
Equifax calculates massive data breach will cost company at least $140 million
Still, it lost $87.5 million from the breach and missed analyst expectation on both the top and bottom lines. The stock is down around 24 percent since September 7, when Equifax disclosed the breach.
Jones guided Tennessee to back-to-back nine-win seasons in 2015 and 2016, but was just 3-9 in his last 12 SEC games dating to last season.
However, Jones did help produce nine National Football League draft picks during his Tennessee tenure and his players collected 18 All-SEC awards and 108 received SEC Academic Honor Roll honors.
ESPN's Chris Low reported that Brady Joke, former Ball State, San Diego State and MI head coach, will be the interim coach for the Vols.
Both coaches will latch on somewhere else during the offseason, but probably not as a head coach, and definitely not at a powerhouse program. He can certainly provide a steadying hand, drawing on previous head coaching experience at Ball State, San Diego State and MI.
The 59-year-old Hoke has head coaching experience at Ball State (six years), San Diego State (two years) and MI (four years), and after his dismissal at MI after the 2014 season, Hoke was out of coaching for a year before spending the 2016 season as Oregon's defensive coordinator.
Yet the bad effort showed that the team had quit on Jones or didn't consider him a coach for whom to show its best effort.