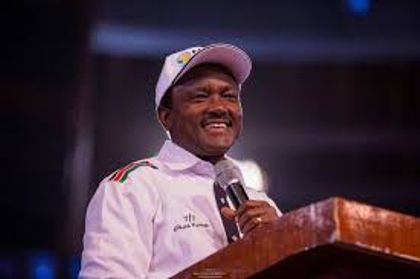 Kenyan opposition leader Raila Odinga was "sworn in" on Tuesday by his National Super Alliance party as the "people's president", two months after his bitter rival, president Uhuru Kenyatta, took the oath of office.
Incumbent Uhuru Kenyatta won a second term and was sworn in last November. The result of the August general election was annulled following allegations of irregularities.
Odinga refused to be drawn on his plans for after his symbolic inauguration, repeatedly telling the interviewer, "Hold your horses" and "We'll see".
While police stayed away, allowing the ceremony to go ahead, the government hit back with interior minister Fred Matiang'i designating as an "organized criminal group" the opposition's "National Resistance Movement (NRM)" wing, tasked with implementing a threatened programme of boycotts and civil disobedience.
Since the October repeat election and Kenyatta's inauguration, the country has mostly stabilized, with many Kenyans breathing a sigh of relief that the period of political uncertainty had ended.
Pyongyang cancels joint event, blames S.Korean media
However, the sudden decision of North Korea to stay away from a mutually agreed decision will put a brake on the initiative. The Unification Ministry was expected to send its formal response to North Korea's decision some time on Tuesday.
After initially vowing to block the gathering, police kept their distance, but a furor broke out after the Communication Authority shut down three of the country's main private television channels who were covering the ceremony. He noted that the government has commenced investigations targeting certain individuals and Organizations who include but not limited to certain media houses. For his part, Odinga must implore his supporters to avoid violence. "For Kenyatta, continued pressure from Odinga and NASA supporters will push his administration to pursue policies that ensure its credibility and popularity", such as increased social spending and free secondary school education, Atwell explained.
Although the police had said they would prevent any illegal assembly, there were no uniformed police in the park and no anti-riot officers or vehicles were visible.
Kenyan media outlets such as Citizen radio and television, NTV and KTN were banned from broadcasting the event.
The chairman of the guild, Linus Kaikai, said an earlier meeting with government officials about their planned coverage of the Odinga demonstration "was held under an atmosphere of intimidation". "For the first time in our history people have gathered here in their hundreds of thousands to say enough is enough on election-rigging", Odinga said.