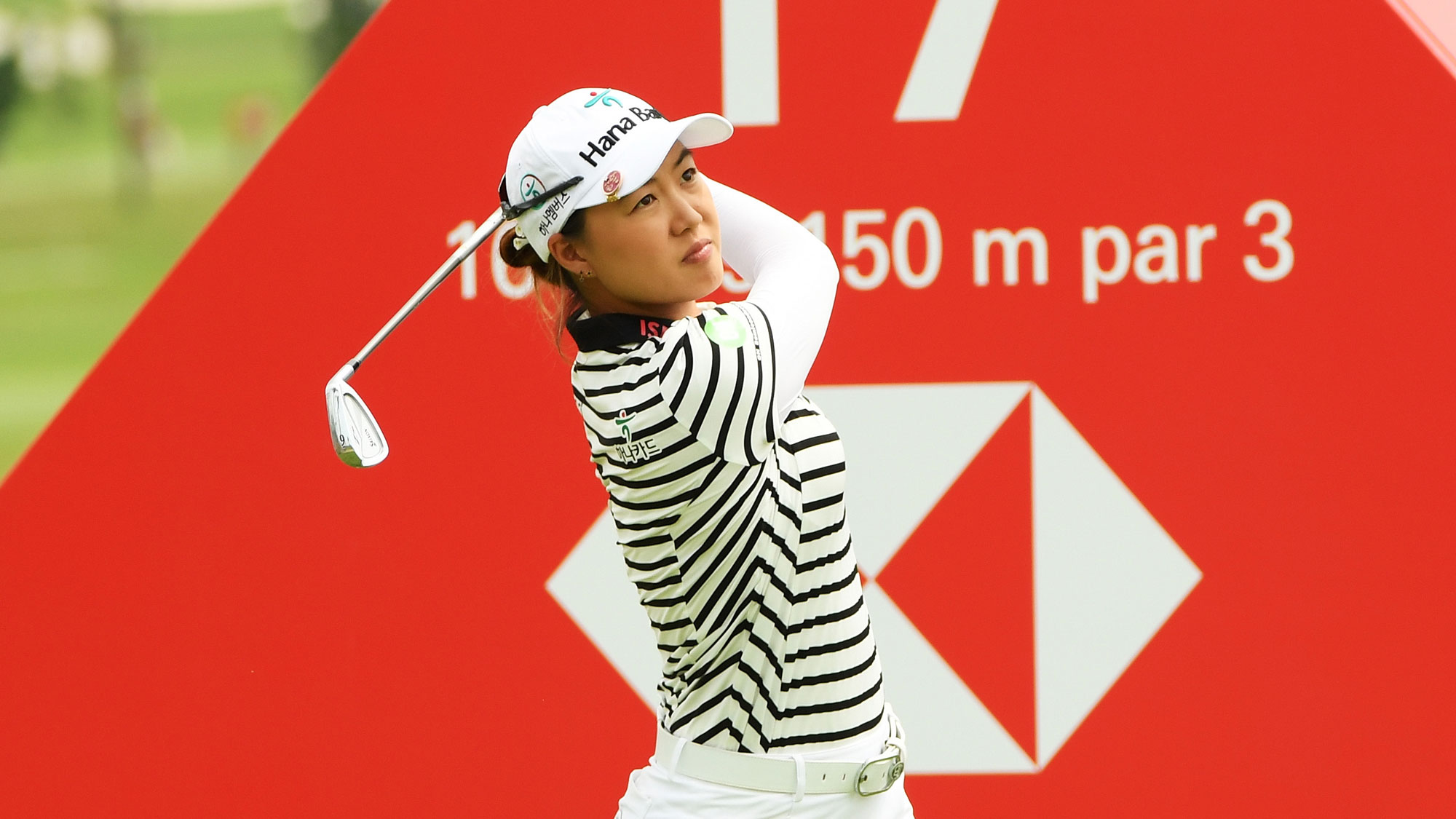 Michelle Wie of the United States hits her shot during the final round of the HSBC Women's World Championship in Singapore on Sunday.
With four players in contention to win on the last hole, Wie managed to separate herself from the pack when she drained her lengthy birdie putt on the 72nd hole at the Sentosa Golf Club for a final round of seven-under 65 to finish at 17-under 271.
The 28-year-old's last victory was at the 2014 US Open, and after subsequent years battling injuries and technical changes Wie had some unfinished business in Singapore after she led after three rounds a year ago but failed to seal the deal.
Danielle Kang, last year's victor, also missed a long birdie putt on the last hole to miss out on a playoff as she closed with a 70.
Earlier, Kim Sei-young briefly threatened to shoot an LPGA-record matching 59 but a bogey on her 16th hole stalled her progress and the Korean had to settle for a course record 10-under 62 to finish in a tie for 10th on 12-under-par. When Shin, playing one group ahead of Wie, finished with a bogey on the 18th, Wie needed a birdie one more birdie on the home hole to be the leader in the clubhouse and put pressure on Korda and Kang, who were playing in the group behind her.
"'That was a Solheim fist pump, '" Wie, who quoted last week's LPGA Tour victor, Jessica Korda, said after drilling the 35-footer from the fringe for her first W since the 2014 U.S. Women's Open and punching the air with her clenched right hand.
This year, it was Wie on the charge, with three birdies on the front nine and four on the back in her 65. "It's been a tough journey but I'm just really proud that I pulled myself out of it".
Jenny Shin watches her chip shot during the final round.
Study identifies 5 types of diabetes instead of 2
New research suggests that diabetes may actually be five different diseases rather than two separate types as previously thought. The third "severe" group were people with auto-immune diabetes corresponding to the original "type-1" diagnosis.
American Nelly Korda, whose older sister Jessica won last week's event in Thailand in remarkable circumstances, fired the equal best round of the day to grab the outright lead at 15-under. "I didn't want to finish on a bogey. but I gave myself a really good par chance".
Wie's approach shot on 18 came up a little short, leaving her with a 35-foot putt from the fringe for birdie.
Wie had been pecking away at the two players who had led the event for most of the day, and neither Korda nor Kang were ever able to break free from each other or from the field. "Just have to keep going forward".
"It's been a while since I stood up here so it feels pretty good", Wie added.
"I was hitting it really well off the tee".
"I'm definitely inspired by her win and it definitely motivated me a bunch", Nelly Korda said. So she (Wie) dropped the bomb on the last.
"The nerves that I got on 18, I think any human being would experience it", she said. I think it's been kind of well documented.