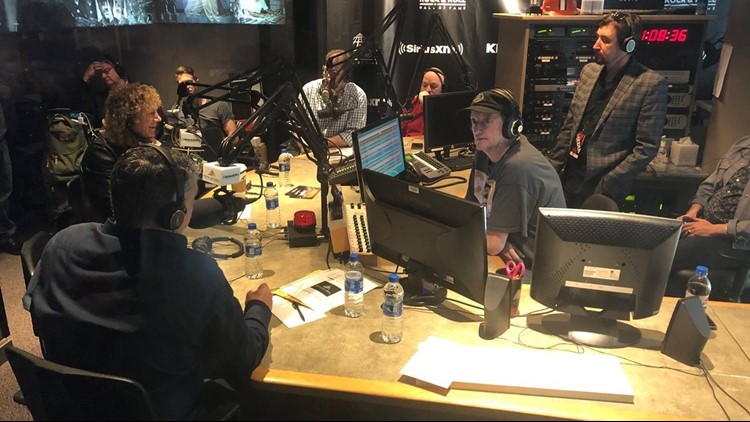 Jon Bon Jovi, Sambora and Such were joined by current bandmates David Bryan, Tico Torres and Hugh McDonald at the Public Auditorium in Cleveland, where the Rock Hall is based.
Emerging as one of the top groups from the "hair band" era of the 1980s, the group led by singer Jon Bon Jovi, was enshrined Saturday before a sellout crowd familiar with all of its iconic anthems. After Bon Jovi took up the first hour of the four-plus hour long event, three members of Dire Straits unceremoniously inducted themselves.
"Cleveland was Ben's hometown, and I know whenever he is, he's so proud of this special occasion and even more so that we're here of all places", The Cars guitarist said.
The group then played "I'm Just a Singer in a Rock and Roll Band, ' 'Wildest Dreams, ' 'Nights in White Satin" and 'Ride My See Saw.' The ceremony will be aired in the USA by HBO on 5 May.
Sambora hasn't played with the band since he left in 2013 while Such hasn't been onstage with them since a one-off performance in 2001.
Cars keyboardist Greg Hawkes echoed the theme when thanking the fans of the band formed in Boston in the late 1970s. "Everybody's more alike than they are [different], and especially now, in today's world, that's really important".
Simone, who died in 2003, was welcomed into the Rock corridor at a radical way from performers who has deeply motivated, from Lauryn Hill and Andra Day into Mary J. Blige.
International Tributes Pour In for Milos Forman
Larry Flynt ", a depiction of the porn magazine publisher's protracted legal fight for First Amendment rights. The movie clearly hit a nerve, as it was banned in theatres following the Soviet takeover of the country.
Hill stretched her voice and sang in French, in honor of Simone's music, which earned her a standing ovation from the crowd. Day, a Grammy-nominated R&B singer, strike. Blige inducted Simone, calling the singer "bold, strong, feisty and fearless".
Simone was a leader in pushing for civil rights and influenced everyone from Aretha Franklin to Alicia Keys.
Petty, who was enshrined with his band The Heartbreakers in 2002, died in October of an accidental drug overdose shortly after wrapping up a highly successful North American tour. He proceeded to trash Rolling Stone magazine publisher Jann Wenner, whom he said worked behind-the-scenes to ensure Bon Jovi wouldn't be inducted into the Rock Hall. (Also, as a way of honoring the late Tom Petty, the Killers had opened the show by playing a couple of Petty tunes).
The Moody Blues were ahead of their time, cutting edge.
Perhaps owing to the absence of the Knopfler brothers, Dire Straits - for the first time in the entire Rock Hall history - didn't have an induction speaker present them at the ceremony.
The Associated Press contributed to this record.