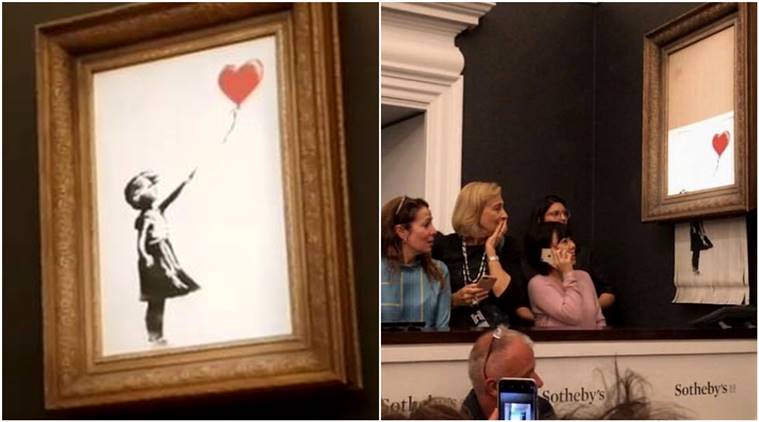 After the gavel fell Friday at Sotheby's auction house in London, Banksy's Girl with Balloon was reduced to shreds - another apparent act in the disruptive career of the anonymous British graffiti artist.
But nearly as soon as the hammer fell, the canvas was passed through a secret shredder hidden in the large Victorian-style frame, leaving the bottom half in tatters and only a solitary red balloon left on a white background in the frame.
The auction house says a female European collector was the successful bidder who offered 1.04 million pounds for "Girl With Balloon".
Sotheby's said the painting has now been retitled "Love is in the Bin" and authenticated by Banksy's Pest Control agency. However, he says the move was very much in keeping with Banksy's approach and perspective: mocking the traditional art world and expressing disquiet at the way his and other works had been commodified - while at the same time reviving interest and debate on his works.
Mr Branczik added: "The work wasn't destroyed, it was created, destruction is a form of creation".
Hurricane Michael strengthens, Florida braces for worst in decades
A sign at the restaurant located just across from the beach on Highway 30-A says it plans to "open as soon as the storm passes". Governor Rick Scott has declared a state of emergency in over 30 counties and has urged people to make immediate safety plans.
In a statement the buyer, who has not been named, said: "When the hammer came down last week and the work was shredded, I was at first shocked, but gradually I began to realise that I would end up with my own piece of art history".
Showing a girl moving to a bright red heart-shaped balloon, the work made in spray paint and an acrylic paint on canvas is one of the most famous paintings of this artist. "Nobody thought it was weird for the frame to have a power source (for the shredder) or the fact that there were blades in the frame?" one post reads claiming it was all a "pre-planned stunt". He has indicated his opposition to the commercialisation of his street art - he has made clear he wishes to live a life on the streets - and in 2014 vocally criticised an auction that sought to sell an array of public murals from across the world.
Last week's self-destruction was the latest in a long history of anti-establishment statements by the street artist.
In 2015, over 1,50,000 people paid to attend his dystopian "bemusement" park Dismaland - whose exhibits included a derelict dingy fairy castle, a disfigured "Ariel" mermaid and a "woman attacked by seagulls" in the seaside town of Weston-super-Mare.