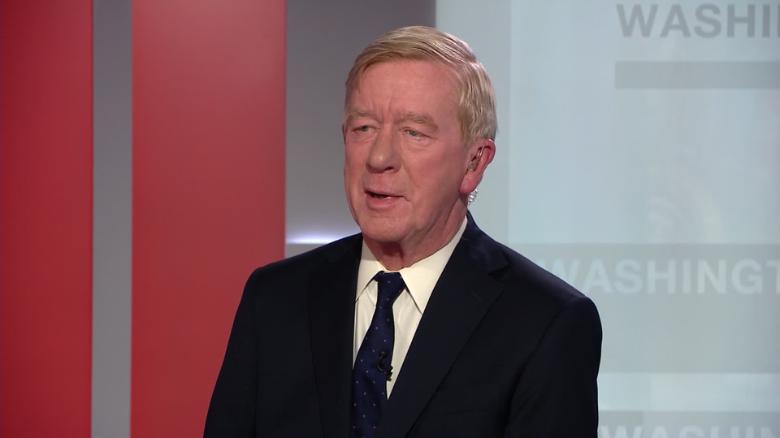 Former Massachusetts Governor Bill Weld announced his candidacy on Monday to challenge President Donald Trump for the 2020 Republican presidential nomination.
Weld has previously run for federal office in the United States as a candidate for vice president on the Libertarian Party ticket in 2016, alongside presidential candidate Gary Johnson.
Appearing on CNN's The Lead Weld told host Jake Tapper that he would be "ashamed" of himself if he chose not to run and Trump were re-elected.
Weld said his career as a federal prosecutor stands in stark contrast to the president. "The president is not well liked in California", Weld said. He served as Mitt Romney's co-chair in NY when he ran for president in 2008, but after Romney dropped out, he endorsed Barack Obama for president - not John McCain.
He said, "There is no greater cause on earth than to preserve what truly makes America great". Johnson and Weld have spent the day campaigning in Salt Lake City, the home town of former republican presidential candidate Mitt Romney. "I am ready to lead that fight", the former governor declared.
He said he is an economic conservative, adding that the U.S. "deserves to have some fiscal restraint and conservatism and cutting spending in Washington, DC".
Spire collapses as huge fire engulfs Notre-Dame Cathedral in Paris
Previously, when discussing wildfire management in California, Trump had said that the problem was insufficient raking (really). A city hall spokesman said that the area was being cleared, while the fire department said a major operation was under way.
Weld said he will not run as an Independent if he does not win the Republican nomination. He seems particularly ill-suited to challenge Trump at a time when Democrats' radicalism on abortion and against religious freedom are riling up Republicans.
In his announcement video, Weld touted his history in MA, citing tax cuts and a balanced budget.
Although Weld will try to woo moderate Republicans turned off by Mr. Trump by touting his socially liberal but fiscally conservative platform, he will face an uphill battle matching the incumbent president's institutional support, war chest and electoral infrastructure.
Next year Republican and Democratic voters will hold elections known as primaries to pick their respective party's standard bearer for the November 2020 presidential election.
Party leaders have quickly rejected Weld's campaign which make things look hard for him in the long run.